Back to: Yahweh Virtual University Free Online Class
OBJECTIVES:
Students will combine the letter sounds, learn consonant blends, recite the sight words and learn their vowels.
PROCEDURES:
1) Prayer
2) Bible time
3) Word defined
4) Letters and sounds
5) The "it" family
6) Vowels
7) Sight words
8) Worksheets
9) Homework
10) Parents and older student learning
Parents Corner
All parents/legal guardians please remember:
~Please don't ever shame, ridicule, belittle, or unnecessarily provoke students purposely. This can cause counterproductive behavior. (Colossians 3:21, Ephesians 6:4)
~Be patient, calm, and encouraging when teaching students. Never compare one student's success with others. All students learn at different speeds.
~Find your student's learning superpower HERE and remember to have them utilize their special technique when learning.
---
Procedure Number 1
Let us all stand and face the East as we say a prayer in Hebrew to our Heavenly Father Yahweh.
Instructions:
Please press play and pray along with the audio.
Song and Praise
Instructions:
Have students clap their hands, dance, and sing while giving Yahweh the praise.
---
Procedure Number 2
Scripture for the day: John 1:1
Instructions:
Remember to explain to students that God Yahweh is the word. Please take the time and read to students a verse from the King James Version of the Bible. Feel free to find additional scriptures related to the word. John 1:1 In the Beginning was the Word, and the Word was with God Yahweh, and the Word was God Yahweh.
---
Procedure Number 3
Spell out and define the word W-O-R-D: A written or printed character representing a spoken word. The expressed or manifest mind and will of God Yahweh.
Instructions:
Please press play below for students to learn how to spell and define the word "Word".
---
Procedure Number 4
Remembering letters and sounds
Instructions:
Please press play below for students to learn and remember their letters and sounds.
---
Procedure Number 5
Introduction to the "it" family
Instructions:
Have the student say and spell out "it". Explain to the student that the "it" sound will remain the same. Have the student add letter sounds Infront of the "it" word. Please follow the instructions below for students to learn the "it" family words.
---
Procedure Number 6
Learning Vowels
Instructions:
Press play below for students to learn their vowels. Teach students their Vowels with the picture below. Feel free to make up your own fun tune to help students remember their vowels.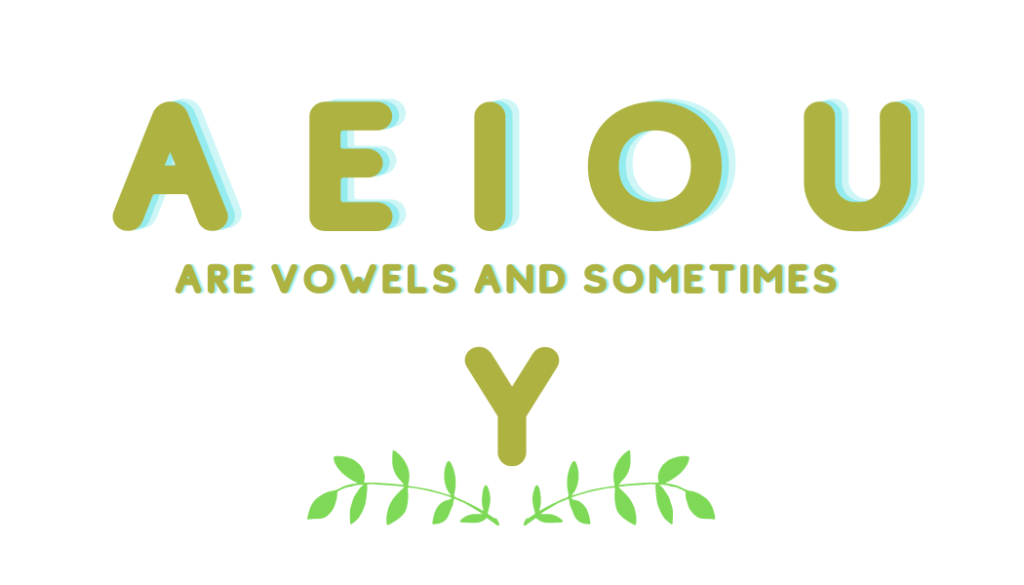 ---
Procedure Number 7
Learning sight words
Instructions:
Please play the video below so students can learn their sight words
---
Procedure Number 8
Worksheets
Please press the download button so students can complete their worksheets.
---
Homework
Instructions:
1. Continue watching this video HERE throughout this week.
2. Please press play below and continue to inculcate the definition of the vocabulary word "Word". Repetition is key! (Recite the meaning of Word seven times daily this week)
---
PARENTS AND OLDER STUDENT LEARNING
Yahweh's Moral Behavior Attributes Word Fun.

Complete the crossword puzzle by identifying the meaning of Yahweh's Moral Behavior Attributes.

Below are 20 out of 28 of Yahweh's Moral Behavior Attributes:

HONORABLE, GOOD, EXCELLENT, PRINCIPLES, ETHICAL, TRUTH, RIGHT, RULES, TEACHINGS, CONFORM, VIRTUOUS, CHASTE, ACTION, MIND, FEELINGS, WILL, CHARACTER, NATURE, JUDGMENT, CAUTION.
Can you guess which Moral Behavior Attributes are missing?
A Call For Your Help!
We pray you have enjoyed and will continue to enjoy this free online class:
~This is a call for your help and assistance. This free online class was created to bring awareness to all good people about how wonderful learning from Yahweh truly is.
~At this time YVU only supports online classes for levels 1 & 2 (ages 2-6). We are a small team and are working endlessly to provide online classes for all levels and all ages.
~We are in need of Lesson plan writers, Worksheet creators, Video creators, Online course creators, Teachers, and more…If you are interested in helping YVU launch more levels faster please fill out this form HERE or call 850-813-9494 between the hours of 9 am & 1 pm EST.
You can also support us through your generous donations HERE. Praise Yahweh forever!
Please click the blue button below once you have completed this lesson.